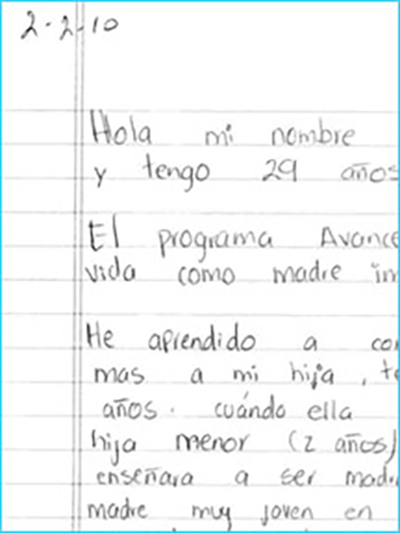 Hi, my name is Abesuad Mendez. I am 29 years old.
The Parent-Child Education Program has transformed my life as a mother incredibly.
I have learned to better communicate and understand my daughter. I have another daughter who is 10 years old. When she was as old as my young daughter's age (2 years old) there was no one who could teach me how to be a mother; I learned by myself. I was a young mother back at 19 years old and scared for the new stage that I was starting in my life, with many fears of not knowing how to be a good mother.
Now with AVANCE I have been able to understand my daughter's behavior more, also I feel that I enjoy the stage in her childhood more. I have been able to share with my husband how wonderful our daughter is and he too now understands her more and can demonstrate his love for her more.
Thank You AVANCE. I give AVANCE permission to publish this.
Abesuad Mendez
Note: This letter has been translated from Spanish and modified for clarity.