Be a champion of a family's future
Our journey started in 1972 when two Cornell University doctoral students studying under Dr. Urie Bronfenbrenner created the original AVANCE-Mother Infant Program in Dallas. Then in 1973, AVANCE established the San Antonio office and began offering classes in the Marisol Housing Project. AVANCE-Austin was established in 1997.
Since the program's inception, AVANCE has earned broad recognition and funding from various sources. Notable visits from national and international dignitaries include the Reverend Jesse Jackson, Prince Charles of Wales, Oprah Winfrey and former U.S. First Ladies Rosalynn Carter, Hillary Clinton, the late Barbara Bush, and Laura Bush. AVANCE has been featured in the New York Times, NBC's Education Nation, ABC's World News Tonight and Good Morning America, along with several social documentaries such as Ounce of Prevention and Scared Silent.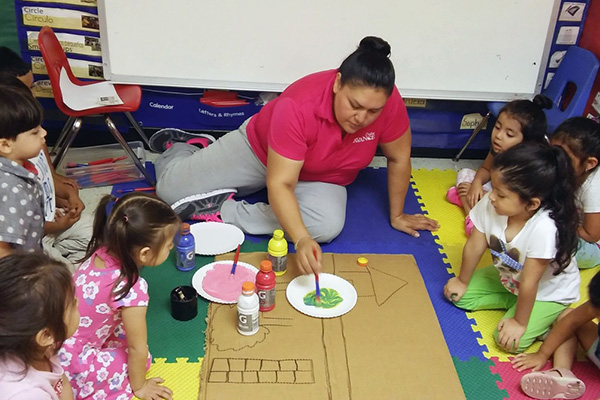 Other distinctions include Best Practices Award from the Texas Association of Parent Educators, HEB Excellence in Education Award, Simmons Luminary Award for Educational Excellence and many more.
Accomplishments & Awards timeline
The idea for AVANCE originates when Bonnie Park and Ann Willig, two Cornell University doctoral students studying under Dr. Urie Bronfenbrenner, start their Mother-Infant Program in Dallas
Dr. Gloria Rodriguez establishes AVANCE Parent-Child Education Program in San Antonio's Marisol Housing Project
Charles, Prince of Wales visits AVANCE

AVANCE receives award from the Mental Health Association
First Lady Barbara Bush visits AVANCE
The New York Times and ABC World News Tonight features AVANCE's renowned Parent-Child Education Program
Second visit by First Lady Barbara Bush

Receives 1st federal grant from the National Committee for the Prevention of Child Abuse and Neglect
AVANCE receives one of the first nationwide Even Start Program Grants
Oprah Winfrey invites AVANCE to be part of "Scared Silent," a documentary about children

Carnegie, Ford, Hasbro, W.K. Kellogg, Rockefeller, Hilton and Mott Foundations establish an AVANCE funding consortium
Featured as National Model in Prevention of Crime and Delinquency on McNeil Lehrer NewsHour
Featured in First Lady Hillary Rodham Clinton's book "It Takes a Village"

AVANCE - Austin is established.
First Lady Rosalynn Carter cites AVANCE in her book, "Helping Someone with Mental Illness"
Recipient of the Annie E. Casey Foundation's Families Count Award
AVANCE Waco becomes an incorporated chapter thanks to a $1 million grant from the Bernard and Audre Rapoport Foundation

The $5 million Capital Campaign is a major success. The AVANCE National Headquarters building is included in the National Registry of Historic Buildings
AVANCE founder Dr. Gloria Rodriguez receives National Hispanic Heritage Award in Education
Program expands to New Mexico and California with an award from the W.K. Kellogg and Hilton Foundations
AVANCE makes history by becoming the recipient of a $12.6 million grant from the W.K. Kellogg Foundation
Texas Association of Parent Educators presents AVANCE with their Best Practices Award
Simmons Luminary Award for Education Excellence
Recipient of HEB Supermarket Excellence in Education Award
New Profit, Inc. selects AVANCE to join their portfolio of investments
AVANCE President and CEO is featured on NBC's Education Nation.
AVANCE participates in an Early Childhood Cohort in partnership with the Bezos Family Foundation
For 7th Consecutive year, AVANCE named a Top 25 Hispanic Nonprofit by Hispanic Business Magazine
AVANCE joins the Aspen Institute Ascend Network
AVANCE-Austin receives Habla con Orgullo Award for Outstanding Latino Community Organization by Hispanic Advocates Business Leaders of Austin.